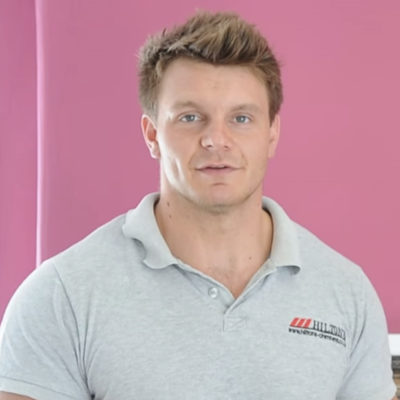 WARWICKSHIRE LIFE – PUBLISHED APRIL 2007
He looks nothing like the Dick Van Dyke character from Mary Poppins and has already tired of people singing Chim Chim Cheree when he is spotted carrying his brushes, but Hilton Basnett loves being a chimney sweep. He openly admits it is something he had never thought about doing while he was studying engineering at the Trident Technology and Business Centre in Leamington, where he had hopes of moving into design engineering of some kind. But, since picking up his brushes, Hilton says he has never been happier. It is tempting at this point to sing the line from the Mary Poppins song that goes 'though I spends mi time in the ashes and smoke, in this whole wide world there's no 'appier bloke' but he's already warned me about that.
So, how does a hi-tech engineering student who spends his spare time working under the bonnet of his beloved drag racer get involved with low-tech chimney sweeping? "A friend of the family was a chimney sweep and he was looking to semi-retire. He said that he would show me how things were done and then let me take on some of his customers. That way he could cut down and I could build up my own business," he explains. For the next six months, Hilton became almost an apprentice, learning the trade around the county. "Once we both thought I was ready to go it alone then that's what I did – and I haven't looked back. It's great and you just don't realise how much demand there is for a chimney sweep." But what is there to learn? Surely you shove a brush up the chimney and the soot comes down. Doesn't it? "Not exactly," says Hilton with a wry smile, "In fact not at all, to tell the truth. If you did you'd have a room full of soot and a very angry customer." But he admits that the basics are fairly simple. The chimney is sealed so soot can't escape, only a brush and a vacuum cleaner nozzle can go through the seal (yes, the brush is put through backwards so you only need a hole the size of the handle in the screen, not one the size of the brush head!).
Then it is a case of adding handles to the brush and pushing and twisting until the soot comes tumbling down and is gobbled into the vacuum. But of course, nothing is as easy as it seems. "You have different types of brushes and rods and, of course, you have lots of different kinds of chimneys. Modern ones are usually fairly straightforward and simple but some of the big, old ones can prove quite a challenge," says Hilton.
But how many chimneys are out there? Surely almost everyone has central heating of some kind nowadays? "You'd be surprised at the number of chimneys still in use in this area. There are a lot of old houses that have always had them and a lot of newer ones, from the 1950s and 1960s, that had them closed up and have now reopened them. "In most cases, they aren't in use on a daily basis but they still need cleaning. There are also coal and oil-powered cookers that need my attention, you'd be surprised how busy I am some days," he says. Hilton cleans about six chimneys a day normally but in winter that can rise to as many as 10. He is quick to point out that winter is busiest because that is when people use their fires most and not because they are cleaning it for the sake of Santa Clause's visit.
As for the summer months, Hilton accepts that business will drop off somewhat but says he is working hard to build up a bank of customers to keep him working throughout the year. A former student at Stratford High School, Hilton (named after the famous chain of hotels but don't ask why!) says his friends have had a good laugh about his choice of profession but says his girlfriend, Julietta, down from Wales to study drama at Stratford College, thinks it's a great job. "She certainly likes the job more than she likes my car," he jokes as he starts working on the engine in preparation for a forthcoming race at Shakespeare County Raceway at Long Marston. Brushing up on his driving skills might be a great way to relax but Hilton says it's his skills as a sweep that are going to put him on the fast track to running a successful business.